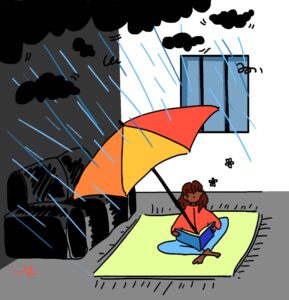 <Artwork Valentine Leroux>
Lockdown came as a shocking surprise for everyone last year and as of now, we are still under strict rules. Lockdown impacted many people's lives, making their mental health get worse. Many teens and young adults developed depression during lockdown and suicide rates among this age group has been the highest in many countries, according to various papers published in the British Medical Journal.
The main source that has kept teens and young adults stressed and unproductive is online school. Since school has been online, many students are experiencing trouble with time management, and with the often unchanged workload that school has been giving, students have been going to sleep late at night, causing great harm to their physical and mental health.
Here are some options which everyone can do to keep healthy during this very crucial lockdown:
Go outside: By going outside people can get fresh air, walk a bit. This will help their well-being because they will be doing exercise and they are able to breathe fresh air instead of staying trapped at home. Just remember to wear a mask and follow local regulations!

Be creative: When people are at home instead of being on their phone all day they can paint, do collages, draw, write and do so much more. This will help their eyes to rest from the glare of their phone and keep them active during the day so they do not get bored.

Do exercise during the day: Workouts can help people maintain a healthy form and get distracted for a couple of hours. Workouts can also help them start the day with a positive mindset.

Cook and bake: Baking can be fun during lockdown because they can distract themselves by making some comfort food like cakes or even healthy food. The entertaining process and the final sense of accomplishment are great mood-boosters.

Try doing something new: When they are at home, instead of "doom scrolling" with all the negative news, people can learn a new sport, learn how to draw, learn to dance or something of the like. These activities will keep them distracted and they will be able to master a new technique that they might enjoy.
Here are some more activities for the sake of calming oneself down during these trying times:
Reading at the beginning or end of the day helps people stay relaxed and calm, as well as acting as a personal bubble that separates them from whatever might be frustrating them in real life. 

Listening to music lets people reminisce on better times, reflect on the day or be motivated to stay active, depending on the genre.

Meditation helps end the day on a calming note and will help people's bodies to relax so they can go to bed unstressed, and wake up fully refreshed.
Overall, there are many activities everyone can do to keep themselves healthy and active instead of staying at home without anything to do, and balanced workloads and variety in routine are crucial to sustaining one's mental health.
Reporter Paula Krinke Garcia
Text Editor Joey Lin
Artwork Valentine Leroux
Layout Yoona Son