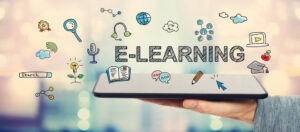 The European Union (EU) has initiated The Digital Education Action Plan, which outlines the European Commission's vision for high-quality, inclusive, and accessible digital education in Europe. The EU urges for stronger cooperation within its member states and them to learn from the COVID-19 crisis, during which technology is being used to minimize educational disruptions and training. There are some concerning statistics regarding the use of technology in education: more than 1 in 5 young people across the EU have failed to reach a basic level of digital skills, and many low-income households don't have access to computers; this includes teachers who struggle to teach online. In order to change the current situation, the EU proposed several measures, which will be implemented from 2021 to 2027.
The first measure is to enhance citizens' digital skills and competencies.  These skills and competencies such as digital literacy, include fighting disinformation, computing education, and obtaining a decent level of understanding of data-intensive technologies, such as artificial intelligence. The commission hopes that by 2027, children from age 10 to 18 will obtain basic digital skills and competencies from an early age. The commission also wants to ensure that girls and young women are equipped with these digital skills so they can be equally represented in digital studies and careers in the future. To achieve this goal, the commission has set out to train educational staff to teach digital literacy at school, update the European Digital Competence Framework to include AI and data-related skills, and support the development of AI learning resources for schools. Other measures include creating a European Digital Skills Certificate (EDSC) that is recognized and accepted by governments, employers and others across Europeand investing more on high-quality digital education to teachers. Lastly, to encourage and ensure women's participation in STEM (science, technology, engineering, and mathematics), the EU seeks to develop higher education curricula that attract women to engineering and technology.
The second measure of The Digital Education Action Plan to develop a digital education ecosystem, whose goal is to allow schools to obtain digital equipment and establish an infrastructure for digital learning, such as effective digital capacity planning and development, including modern organization methods, and ensure educators are digitally competent enough and confident and training staff who are able to teach digital skills. Other goals include generating high-quality learning content while securing user-friendly, privacy, and ethical standards. To achieve this goal, the commission aims to develop a European Digital Education Content Framework. This framework will build on European cultural and creative diversity and create a possible European exchange platform to share certified online resources and connect with existing education platforms. And this idea of connectivity is expanded in Connectivity4Schools, an organization that raises awareness about funding opportunities and encourages the Member States to connect with each other regarding digital education. The EU also needs support from its member states to support their schools' internet access, the purchase of digital equipment, e-learning applications, and platforms. While these digital tools should also be regulated through establishing ethical guidelines on artificial intelligence (AI) and data usage in teaching and learning for educators and support Horizon Europe research and innovation in this area.
Reporter Nina Z.
Text Editor Ping Tsai
Layout Shutong Xu
Sources: https://ec.europa.eu/education/education-in-the-eu/digital-education-action-plan_en