In the years since China's accession to the World Trade Organization in 2001, the country's economy has grown to become second only to the United States in terms of purchasing power parity. In the past decade, China's global trade influence has also spread, gradually surpassing the US as the major supplier of goods to Europe, Asia, Africa and South America. As long as it operated as a cheap factory, China's growth was welcomed by the US, and its emergence as a new market for consumer goods was eagerly anticipated. However, in the mid-2010s — possibly provoked by China's covert military expansion into the South China Sea, its expansive Belt and Road Initiative, as well as an ambitious plan to move up the value chain outlined in 2015 — the relationship between the rising nation and the incumbent superpower became more competitive.   
With the 2016 U.S. election and Donald Trump being on an "America First" platform, tensions started rising. Unhappy with the trade imbalance, the U.S president kicked off a trade war in 2018, imposing tariffs in two waves to encompass around $400bn worth of goods shipped between the U.S and China. The fallout for businesses has been considerable.  This new, more combative relationship has changed the global commercial landscape, disrupting supply chains, most noticeably in the technology sector. It has arguably given China an incentive to develop its own standards and achieve self-reliance in critical strategic sectors, including high tech. Perhaps the most significant consequence of this is the potential for a longer-term decoupling of China and the US, and the emergence of two rival and separate spheres of influence, in both trade and technological development.
Reporter Zoi Agapitou 
Text editor Ping Tsai
Artwork(featured image)  Jessie Liao
Layout Shutong Xu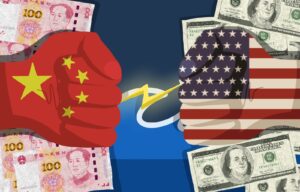 <Artwork by Jessie Liao>
With Joe Biden taking office, the question on everyone's mind is how will the new administration deal with this ongoing clash. 
Economists say that Biden won't confront Beijing right away because he wants to focus on the coronavirus and the country's economy. However he looks to renew pressure over trade and technology grievances that prompted President Donald Trump to hike tariffs on Chinese imports in 2017.
Negotiators might tone down Trump's focus on narrowing China's multibillion-dollar trade surplus with the U. S. and push harder to open its state-dominated economy, which matters more in the long run, but no abrupt tariff cuts or other big changes are expected.
Chinese foreign ministry spokesman Zhao Lijian appealed to Washington to learn from Trump's "erroneous policies" and adopt a "constructive attitude" but gave no indication of possible changes by Beijing. "Cooperation is the only correct choice for both sides," Zhao said Tuesday.
Trump acted on complaints shared by Europe and other countries, but Washington has little to show for its bruising war. It brought President Xi Jinping's government to the bargaining table but roiled global trade, raised consumer prices and wiped out jobs.