At a conference like THIMUN the Hague, delegates use a formal set of vocabulary when debating, from avoiding the use of personal pronouns to refraining from personal attacks. Contrary to belief, those rules didn't make the debates boring, but rather interesting to watch.  Due to the need to be "diplomatic", there have always been some overused words during debates, as delegates attempt to keep their poise while being funny.
"Fruitful"
For the delegates, this word is quite common in their MUN opening speeches. It brings a smile to the faces of the chairs and guests observing the debate (including the press team!). This year the press team couldn't count how many times fruitful was used. Acknowledging the delegates' good intentions though, the writer is certain that it has been used several times.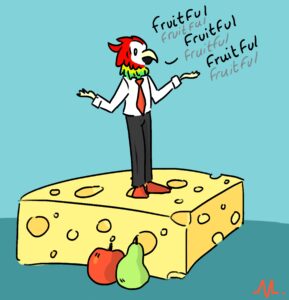 <Artwork by Valentine Leroux>
"Second…Objection!"
When a delegate makes a motion and the chairs await the response from the rest of the committee,, some delegates would be heard twice, stating that they both second and object to the motion. The chairs often react with confusion and have to repeatedly ask for clarification. Despite the entertainment this phrase might bring, the writer has to remind delegates that being productive, especially at a professional conference like THIMUN, might be more desirable.
"This resolution is like Swiss cheese."
A phrase that has been said by multiple delegates from numerous committees. For the participants who are unaware of the metaphor, the delegate is comparing the resolution to Swiss cheese because the resolution is vague, empty, and full of huge holes. Multiple reporters from the MUNITY press team had witnessed delegates from multiple committees using the phrase on Wednesday. As this phrase is highly overused, and on behalf of the delegates of Switzerland, the writer encourages the participants to be more creative and come up with different phrases in order to save the reputation of Switzerland and Swiss cheese.
"Would the delegate agree that this resolution is like applied mathematics: sounds really cool in theory but in practice is the most useless thing in the world?"
A phrase used by the delegate of Finland, in ECOSOC, who compared a resolution to applied mathematics. The writer considers this comparison to be accurate but wants to explain that math is useful for humanity and that mathematicians can possibly disprove the statement. 
No matter if all delegates had a good laugh, these overused and rather cheesy words undoubtedly made the atmosphere of the committees less tense.
Written by Nina Zhang
Artwork by Valentine Leroux
Edited by Ping Tsai
Layout by Selim Alp Maltepe