The striking impact of digital poverty was manifest in the Covid-19 pandemic, during which many students' ability to learn from home was disrupted, sometimes severely, by poor access to digital infrastructure. These inequities threaten to exacerbate persistent disparities in public education that short-change students of color and those from low-income families, resulting in potentially lasting harm to a generation of children.
Before the pandemic, countries were making good progress towards ensuring primary-school education to all children by 2030, which was one of the few United Nations Sustainable Development Goals potentially within reach. That might no longer be the case, a prospect that should worry us all.
The majority of students affected by this digital divide are in the southern half of the globe, encompassing many low- and middle-income countries with low internet penetration. This means that students there are much less likely to have access to online school—360 million in fact, according to the International Telecommunications Union.
As the pandemic continues, reopening educational institutions in poorer parts of the world, including deprived areas in high-income countries, is often not possible, as overcrowding prevents social distancing, and funding isn't available to make schools Covid-19 secure. This leads to students from the poorest families, without Internet access, being more likely to be denied education, widening the already deep educational inequalities. As education is strongly linked to later jobs, income and health, setbacks now will last a lifetime. In LEDCs, this setback is a national threat; however the case is different in countries like the U.S, where the divide is based on race and socioeconomic status.
When looking at the patterns of Internet access, or lack of access, in California, they had many overlaps with the old "redlining maps" from the 1930s and 40s. That is, the places that had been "redlined", a deliberate government and private practice of denying lending and investment to neighbourhoods predominantly housing people of color, still disproportionately lack home Internet access today. This discrimination of a bygone era has taken a new form and became a longstanding problem, further worsened by the pandemic. As of now, Latinos are only one third as likely to have home internet access as Caucasians with black households also lagging behind.
It is unacceptable that any student's education should suffer due to digital poverty. Government incompetence simply cannot be allowed to hold back young people's futures.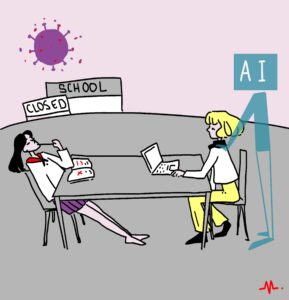 Written by Zoi Agapitou

Edited by Joey Lin
Artwork by Valentine Leroux