THIMUN is the first culprit. The conference has led us to conglomerate in group chats with delegates and supervisors, a motley mixing melting pot of data, circulating all in WhatsApp. The platform is undeniably secure due to its end to end encryption, or so it was until the very end of December of 2020 with the announcement of  a major alteration to their handling of user data. Indeed, the billion-dollar application is updating its privacy policy, causing cries of scandal and collective panic in its two billion users.
WhatsApp is an American instant messaging application founded in 2009 by Jan Koum and Brian Acton. This technological giant was consumed by another when Facebook bought the infamous platform in 2014 for roughly 22 billion dollars. The application owes its success to its end-to-end encryption of a user's calls and messages: this means that without a decryption key, number or hash used to decipher the encrypted message, the users' conversations should not be accessible to any third party. Their security and confidentiality rules have changed however: WhatsApp announced a new policy allowing Facebook to access the data and metadata of a user through the app. Facebook would be permitted to access a person's contacts, IP address, profile picture and name. And with access to metadata,  Facebook would even be able to acquire information on a user's phone hardware. This would be effective by the 8th of February 2021, and even mandatory. Indeed, the app would not allow a user to deny this policy and access the app. Either in, or out.
WhatsApp has a history of disrespect toward data privacy of their users. In 2017, The Guardian published an article stating the existence of a loophole, a "back door" to the encryption methods of Whatsapp. The messages exchanged in Whatsapp are allegedly decipherable with certain keys if the user is offline or hasn't configured their security settings. WhatsApp is said to be able to intercept messages with private keys, as well as read them: the user is only notified if the security settings are configured to allow notifications. News outlet The Guardian claims that cryptography experts have denied this accusation by the news outlet, stating it as a "compromise to guarantee the users' security" from outward malevolent forces. Alleged or not, the users of the social media platform demanded transparency.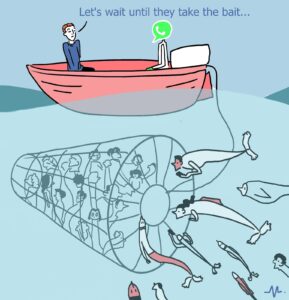 Hitherto, WhatsApp executives are crumbling under backlash, postponing the implementation of the policy to May 15th of 2021. The company executives state in a January CNN interview: "the update does not change WhatsApp's data sharing practices with Facebook and does not impact how people communicate privately." With a motley of articles and Youtube videos, misinformation spreads nonetheless like wildfire. Users all over the world gather to denounce the stealing of metadata for targeted advertising. According to the NewYorkToday channel, "If an app is free, you are the price." WhatsApp will  use this new policy to acquire data for their machine learning algorithms to advertise specific products users might have mentioned in private exchanges via the app. Facebook would use this data or sell it to other companies. Rival corporations to Facebook and its subsidiary WhatsApp take advantage of this scandal: Telegram, the instant messaging app similar to the latter, is observing  a rise in downloads since the CNN articles proving Whatsapp's new policy. Elon Musk, CEO of Tesla and director of SpaceX promotes the application Signal, a reliable encryption service app, on the same occasion. 27 European countries have, as of today, denied the policy reform thanks to their enforcement of the General Data Protection Regulation  in the EU. WhatsApp seems to be losing in popularity and in trust.
It is no secret that the tech giants: Google, Amazon, Facebook, Apple, Microsoft (GAFAM) and newer entrants like Baidu, Alibaba, Xiaomi, Tencent (BAXT), use their big data infrastructures as a way to levy power.
Power in earlier times could have been described as an interstate manoeuvre, as confirms Professor Joseph Nye on his theory of power: a state acquires power through a strategically organizing their territory, the likes of a dynamic population and finally the desire to conquer and acquire power in the first place. In the globalized era, the utopic scene for the Internet and superpowers such as the GAFAM have a new meta quality that surpasses state law and allows tax havens, political involvement and the spread of misinformation. The power they possess is "meta-state," for lack of a better term, beyond and above the obligations of a single global power. 
The latter brings back to THIMUN and how delegates go about debate. What does a delegate expect to change when not tied to the view of a single state; and, what can a subsidiary of a GAFAM superpower not achieve when untied from a single state?
Who will quit WhatsApp? 
Reporter Meghna Attano Mahboobani
Artist Valentine Leroux
Text Editor Joey Lin
Layout Yoona Son