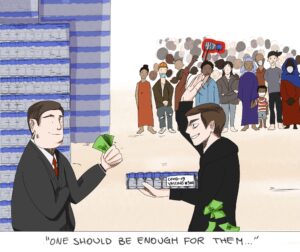 <artwork by Vittoria Ginevri> 
As the global death count approaches 2.2 million due to COVID-19, countries from all around the world are rushing to develop or buy the vaccines for their citizens. For the countries that have less economic capabilities, they struggle with purchasing the vaccines for their citizens, which poses a problem for those countries, as they could experience even worse economic, social and political damage due to the COVID-19 outbreak. 
According to Deutsche, only 1 in 10 of the citizens of LEDCs are going to receive the vaccine. Rich nations have bought 54% of the total stock of the world's most promising vaccines, despite containing only 14% of the global population, revealed the Alliance, a coalition composed of  Oxfam International, Amnesty International, and Global Justice Now. The wealthy nations are able to vaccinate their citizens 3 times more than necessary, while the other citizens from less fortunate countries are suffering without the vaccine. Mohga Kamal-Yanni, an advisor for People's Vaccine Alliance, has concluded this situation as a fight for vaccines between nations, which shouldn't exist. The Alliance also called on pharmaceutical companies developing coronavirus vaccines to cooperate with the World Health Organization (WHO) so that more doses can be made. Luckily, companies have already joined forces with the WHO to fight the imbalance in distributing the vaccine. A landmark global vaccine plan known as Covax is seeking to ensure fair distribution of coronavirus vaccines. Formed from the Gavi vaccines alliance, the WHO, and the Coalition for Epidemic Preparedness Innovations (CEPI), Covax aims to procure enough vaccines for participating countries to inoculate at least 20% of their population.
The program is aimed to help LEDCs by making MEDCs buy vaccines and provide financial support for the former. Currently, 186 economies are involved. The initial target of this program was to raise more than $2 billion to buy and distribute vaccines among 92 eligible countries that usually are not able to afford them, but due to COVID-19, the program needs at least $5 billion more in 2021. The CEO of Covax Pascal Soriot says the company's objective is to let every country around the world get access to the COVID-19 vaccine at around the same time, and he also claims that the company is not seeking to profit from this program.
The unequal distribution of the COVID-19 vaccine could possibly lead to unnecessary death: the vaccine creates herd immunity among countries and would effectively stop the spreading of the virus, so by distributing the vaccines fairly, the world could end the pandemic sooner. The WHO should step up and regulate the vaccines and ensure equality when it comes to their distribution. With more and more countries going through a second lockdown, the writer hopes everyone stays safe in their own homes.
Reporter Shichun Zhang
Artist Vittoria Ginevri
Layout Yoona Son
reference
https://www.worldometers.info/coronavirus/?utm_campaign=homeAdvegas1
https://www.dw.com/en/rich-countries-hoard-coronavirus-vaccines/a-55879841
https://www.bbc.com/news/world-54961045