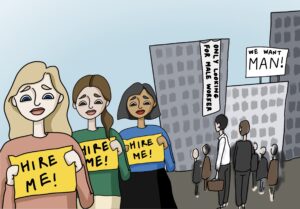 <Artwork by Jessie Liao>
Female unemployment has been a major issue in most countries and is thus being debated in ECOSOC. Currently, according to the Washington Post, women have been hit the hardest with unemployment in comparison to men during the pandemic. The situation is especially worse for African American and Hispanic women. The massive loss of jobs is due to overrepresentation in some of the employment areas, such as leisure and hospitality, health care, and education. Unfortunately, the pandemic has wiped out the jobs obtained by women over the past few decades. Female unemployment could even worsen the overall wage gap between males and females. When the writer was observing the debate in the ECOSOC this afternoon, she found out that it was especially hard for delegates to agree on the same point of view on this issue; the delegate of Finland even concluded that one resolution was like "swiss cheese"—a lot of holes. 
The writer hopes the debate goes well for the ECOSOC delegates and also wants to congratulate the delegates of Paraguay for passing a resolution on this contentious issue.
Reporter Shichun (Nina) Zhang
Artist Jessie Liao
Text Editor Ping Tsai
Source: Schmidt, Samantha. "Women Have Been Hit Hardest by Job Losses in the Pandemic. And It May Only Get Worse." The Washington Post, WP Company, 11 May 2020, www.washingtonpost.com/dc-md-va/2020/05/09/women-unemployment-jobless-coronavirus/.