English, Science, Maths, History, we all know these classes. We all learn the formulas in algebra and important dates in history, but it is expected from students to learn and understand our environment without teachers and teaching plans. The environment is very important in our world, which should be protected and known instead of being ignored. Students should understand the importance of nature at a young age. It would be helpful to introduce "green" rules to young children from nursery to middle school, like switching off lights when leaving the room to save electricity, or to properly sort their rubbish.
Schools should add a subject which is dedicated to learning about the environment and different ways to save the planet. For example, primary schools can have a subject teaching about the environment. Though crucial environmental issues and up-and-coming "green" policies are on our daily news, it would be great to be able to talk in class about it, not simply as a side topic or an intriguing story but as a full-fledged subject with learning targets and marked assessments, tests and exams.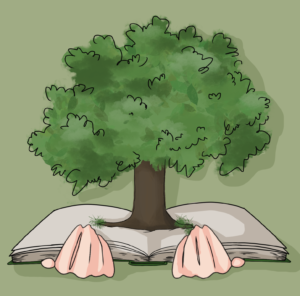 Secondary schools could expand on this idea by developing an environmental education plan that covers topics from the significance of the Amazon Rainforest to the technology of a solar or wind farm. By doing these things, students will be more knowledgeable about the planet and more motivated to join causes to preserve nature.
Having such a subject will help inspire the students to help the planet and be able to live more of a sustainable life. These subjects can also help improve climate change because the more people know about the environment the more action they would take. Let's add these subjects to the curriculum and save what we have left of the environment!
Reporter Paula Krinke Garcia
Text Editor Joey Lin
Artwork by Vittoria Ginevri
Layout by Selim Alp Maltepe