The Arctic Ocean is one of the most isolated biomes in the world. Only about 4 million people live scattered across the vast Arctic Region, and its harsh climate makes it less livable for humans than other parts of the world, consequently making it a great environment for Arctic animals to settle in. This was the case, up until monstrous vessels gnawed into the ice and machinery broke the serenity—we've decided to use the Arctic Ocean to our own advantage.
As per National Geographic: "As the once impenetrable sea ice becomes less stable, Northern Hemisphere countries have begun to take a greater interest in the Arctic as a path for shipping lanes, military presence, and commercial opportunities, particularly oil and gas exploration." Humans have found ways to use the Arctic Ocean as a way to travel, and most evidently, as a source of rare materials. Scientists already expect sailors to be able to cross the Arctic Ocean by 2040, since the Arctic has already lost 49% of its ice in the last 20 years. Many species are endangered, including Arctic foxes, beluga whales, seals, polar bears and walruses. Why are we so eager to destroy the planet we live on?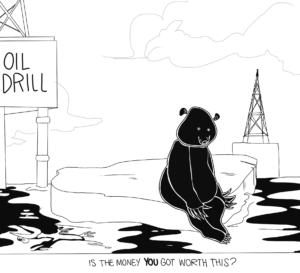 <Artwork by Vittoria Ginevri>
The World Wildlife Organization (WWO) drew attention to the fairly new U.S policy, in which the Trump administration called for the removal of crucial Arctic protections in a new draft proposal allowing oil and gas companies to purchase leases for offshore drilling. The melting of sea ice is accelerating due to our endless desires, and there will be no ice left as early as 2050, subsequently, having many consequences for humanity. The WWO sought to alarm the international community by listing "Six ways loss of Arctic ice impacts everyone."
1- Ice reflects heat. The Arctic and Antarctica work as a way to balance the average heat worldwide. As the ice melts, scorching heat waves will haunt Europe even more frequently. On the other extreme, the polar jet stream can travel south due to the destabilizing effect of warm air, making the Southern Hemisphere much colder. 
2- The global average sea level has risen about eight inches since 1900. If all the ice melts, the average sea level will rise about 12 inches more, flooding the coastal communities.
3- The unexpected heat and cold waves will hit the farms, causing a severe shortage of food supplies and skyrocketing prices. One of our most important daily needs will start becoming a luxury.
4- As transportation through the historically unnavigable Arctic Ocean becomes increasingly common, more shipwrecks and accidents will occur on the foreign and icy waters of the Arctic. 
5- Everything living is interconnected. When we damage an environment and a species becomes extinct, other species are affected by this change, not excluding humans. Destroying the Arctic would eventually kill off all the species living there, and we would also feel the impact.
6- Methane, a gas found inside permanently frozen ground, is one of the most notorious contributors of climate change. If we melt ice, more methane will be released, causing more ice to melt, and it will snowball into serious amounts of greenhouse gases.
These are just a few reasons on why we should stop destroying the Arctic. We need to work really hard to stop ice from melting, and the first step is to cut down on Arctic oil expeditions, and look for a substitute in renewable energy sources. This would require a systematic change in many countries regarding how their administrations view energy, and would have ripple effects on the world economy, but this is what an international forum setting is for. We can't get back what's lost, but we can stop losing more.
Written by Ege Özemek
Edited by Joey Lin
Artwork by Vittoria Ginevri
Layout by Yoona Son