Opinion Column on Death Penalty
He couldn't sleep. The moss spread across the ashen walls, the room saw even less light as rain tapped noisily on the rusty roof and he woke up to footsteps outside his cell again, fearing his time had come. After 18 years on death row, Juan Roberto Meléndez-Colón was proved innocent. He lived to tell his tale and campaign against the gun pointed at his head for nearly two decades.
The death penalty is the ultimate cruel, inhuman and debased punishment. It breaches human rights, in particular the right to life and the right to live free from torture or cruel, inhuman or degrading treatment or punishment. Both rights are protected under the Universal Declaration of Human Rights, adopted by the UN in 1948.
It is an irreversible act and mistakes happen more often than they should. Execution is a final, irrevocable punishment: the risk of executing an innocent person can never be eliminated. Since 1973, for example, more than 160 prisoners sent to death row in the USA have later been exonerated or released on grounds of innocence. Others have been executed despite serious doubts about their guilt. Thus, for every eight people executed, one person should have never been convicted. These statistics represent an intolerable risk of executing the innocent. If a factory operated with similar failure rates, it would have run out of business a long time ago—and courts are not dealing with machine parts, but human life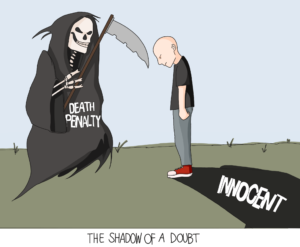 The weight of the death penalty and its margin of error are disproportionally carried by those with less advantaged socio-economic backgrounds or belonging to a racial, ethnic or religious minority. This includes having limited access to legal representation, or being at greater disadvantage in their experience of the criminal justice system. In many cases recorded by Amnesty International, people were executed after being convicted in grossly unfair trials, judged on the basis of torture-tainted evidence and inadequate legal representation. In some countries, death sentences are imposed as the mandatory punishment for certain offences, meaning that judges are not able to consider the circumstances of the crime or of the defendant before sentencing. Countries who practice execution commonly cite the death penalty as a way to deter people from committing crime. This claim has been repeatedly discredited, and there is no evidence that the death penalty is any more effective in reducing crime than life imprisonment.
Society takes many risks in which innocent lives can be lost. We build bridges, knowing that statistically some workers will be killed during construction so we take great precautions to reduce the number of unintended fatalities. Yet very little is done for wrongful executions—a certain death yet a preventable risk. No matter how careful courts are, the possibility of perjured testimony, mistaken honest testimony, and human error remain all too real. Once an inmate is executed nothing can be done to make amends if a mistake has been made. By substituting that with a sentence of life without parole, we meet society's needs of punishment and protection without running the risk of an erroneous, irrevocable and tragic punishment.
Written by Zoi Agapitou 
Edited by Joey Lin
Artwork by Vittoria Ginervi
Layout Selim Alp Maltepe